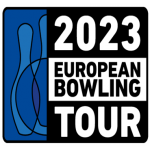 The 17th Storm San Marino Open 2023 was conducted in Serravalle, San Marino, 8-16 July 2023. Total of 553 Entries and re-entries were bowled during the week by 195 athletes, where of 37 were women.
After 3 final steps it was down to 4 athletes to play 3 games to decide the final standing.
Antonino Fiorentino, Italy made only 201 in first game and was placed as number 4
Essi Pakarinen from Finland, made 474 in 2 games and was placed as number 3.
Lukas Jelinek, Czech Republic, made 704 in 3 games and placed as number 2
Kim Bolleby, Sweden made 738 in 3 games and won!
The highest woman became Essi Pakarinen, Finland
There have been changes on the top of the Womens ranking, Essi Pakarinen, Finland is now on top and Anna Andersen and Nora Johanson from Sweden, are following closely.
On the Mens ranking then Kim Bolleby, Sweden has taken healthy lead, more than 300 points more than second place from Mathias Ankerdal, Denmark and Nicola Pongolini, Italy follows closely behind in 3rd place.