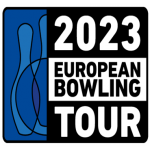 The 6th Brunswick Open was conducted in Cristal Bowling in Wittelsheim, France from the 26th of September 2023 until the 1st of October 2023. Total of 562 entries and re-entries were bowled during the duration of the tournament by 193 players, where of 41 were women.
After three final steps and a quarter final it was down to two semi final matches.
They played two games, total pinfall. Higher score goes through to the final.
Lukas Jelinek from Czech Republic bested Robin Ilhammar from Sweden with a score of 485 to 431.
In the other semi final match it was Niko Oksanen from Finland that defeated Carl Eklund from Sweden with a score of 492 to 452.
That meant that in the final it was Lukas against Niko. In the final Lukas Jelinek put on a show and started with the front 11 strikes before getting a 7-10 split in the final shot. Before the second game he lead by 105 pins. He added a 256 in the second game and in the end won with a comfortable margin, 554 to Niko's 454. This is Lukas Jelinek's first ever EBT title! Congratulations to Lukas.
The highest ranked woman in the tournament was Nora Johansson from Sweden, who finished in 5th place after being defeated by Lukas in a roll-off in the quarter finals. With this result she moved into 2nd place in the rankings. Essi Pakarinen however finished 2nd in the women's rankings in France and with the 2nd place she has secured the win in the women's rankings in 2023. See full women ranking here
There were some changes to the top 8 after the tournament. Lukas Jelinek jumps from 14th up to 4th and Arnar David Jonsson moves into 7th.