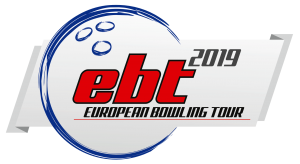 One of Europe's surely classic tournaments, the AIK International Tournament Powered by Track, appeared for the second time in the EBT, when the tournament was conducted over the year change 2018-2019.
A little more than 900 entries were bowled in the tournament, which as always were conducted in Bowl-O-Rama in Stockholm, Sweden.
The format offered a Semi Final Saturday night for 56 athletes, of which 12 was continuing to the Final Step 1, where another 44 athletes were waiting to continue their performances.
In the first step Sunday morning 48 athletes bowled 6 games from scratch, from where 24 athletes were joined by Top 8 from the qualification standing to bowl another 6 games starting from scratch in Step 2.
Step 3 continued with the best 16 from Step 2 bowling 4 games, this time with the 6 games pin fall from Step 2 carried forward, further continuing into Step 4 for the 8 best playing 4 more games, still carrying the pin falls from the previous two steps forward; to accumulate a total over 14 games.
The standing among the 8 athletes after 14 games became as follows:
1. Kim Bolleby, Thailand: 3372
2. Teemu Putkisto, Finland: 3273
3. Cherie Tan, Singapore: 3267
4. William Svensson, Sweden: 3257
5. Robert Lindberg, Sweden: 3256
6. Filip Wilhelmsson, Sweden: 3203
7. Francois Louw, South Africa: 3157
8. Shayna Ng, Singapore: 3068
Top 3 concluded the tournaments with two one game stepladder matches as follows:
Match 1: Teemu Putkisto vs. Cherie Tan: 166 vs. 223
Match 2: Kim Bolleby vs. Cherie Tan: 227 vs. 213
Kim Bolleby, who is leading the men's division of the European Bowling Tour 2019, was highest ranked for the 1th time in his career and it was indeed her first EBT Title.
Cherie Tan, who is leading the women's division of the European Bowling Tour 2019, was highest ranked for the 2nd time in her career.
Click here to see the ranking in the Women's Division
Click here to see the ranking in the Men's Division