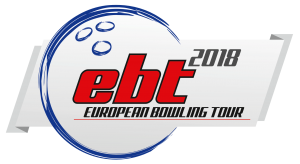 With not less than 455 attending athletes, playing as much as 1.060 entries, the Stockholm based tournament, AIK International Tournament Powered by Track, got a fantastic first time appearance in the European Bowling Tour.
1.060 entries have only been passed twice in the entire history of the European Bowling Tour, both from 2017, where Brunswick Euro Challenge in Munich had 1.197 entries and Lucky Larsen Masters in Malmoe had 1.087 entries.
Concerning the number of athletes, the 455 attending athletes in Stockholm is the 7th best number in the tour history, matched precisely by last year's Lucky Larsen Masters.
The tournament was attended by a bigger contingent of bowlers from Team Singapore and Team Malaysia, who were accompanied by top bowlers from USA, Canada, a lot of European top bowlers and not least a lot of local Swedish stars. All in all a World class field of top bowlers at the lanes of Bowl-O-Rama in Stockholm early January 2018.
The tournament offered a number of build in sub-competitions (the so called Gateways) and a Semi Final Saturday evening; a format which was well-received by a wide range of bowlers attending the tournament in addition to the many top bowlers from around the World.
The second last final step included 8 athletes playing 4 games, with scores added to the already played 10 games from the two foregoing final steps.
The 8 athletes ended their 14 games performance as follows:
1. Jesper Svensson, Sweden: 3397
2. Bernice Lim, Singapore: 3331
3. Shalin Zulkifli, Malaysia: 3297
4. Rafiq Ismail, Malaysia: 3251
5. Niclas Lindholm, Sweden: 3237
6. Daria Pajak, Poland: 3213
7. Ghislaine Sigter van der Tol, Netherlands: 3155
8. Filip Wilhelmsson, Sweden: 3122
Finally top 3 concluded the tournaments with two one game stepladder matches as follows:
Match 1: Bernice Lim vs. Shalin Zulkifli: 226 vs. 220
Match 2: Jesper Svensson vs. Bernice Lim: 233 vs. 240
Jesper Svensson, who is leading the men's division of the European Bowling Tour 20128, was highest ranked for the 9th time in his career.
Bernice Lim, who is leading the women's division of the European Bowling Tour 20128, was highest ranked for the 1st time in his career and it was indeed her first EBT Title.
Click here to see the ranking in the Women's Division
Click here to see the ranking in the Men's Division