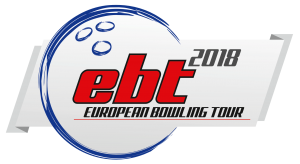 Anthony Simonsen from USA won the jubilee edition of the Irish Open, which were conducted in Leisureplex Stillorgan as the 30th Irish Open Championships in association with Storm.
The tournament, which appeared in the European Bowling Tour 2018 as Stop 03, was conducted on 14-21 January 2018 in Dublin
It was Anthony Simonsen's first EBT Title and his first highest ranked position.
Nicole Sanders from the Netherlands, who left the tournament in the Quarter Final, became the highest ranked in the women's division for the 9th time in her career.
189 athletes had found their way to Dublin to compete for the 62 spots available for the final steps of the tournament.
Step 1 included 54 bowlers playing 3 games starting from scratch, Step 2 included 32 bowlers playing 3 games starting from scratch and Step 3 included 16 bowlers playing 2 games matches in a pyramid system including Eighth Finals, Quarter Finals, Semi Finals and a Final.
The outcome of the three last matches became as follows:
Semi Final 1
Barry Foley, Ireland: 212 + 226 = 438
Edwin van Aarle, The Netherlands: 214 + 187 = 401
Semi Final 2
Anthony Simonsen, USA: 259 + 205 = 464
Stephen Joyce, Ireland: 226 + 181 = 407
Final
Anthony Simonsen, USA: 257 + 203 = 460
Barry Foley, Ireland: 205 + 223 = 428
Sin Li Jane from Malaysia is leading the women's division of the tour with 239 points in front of her fellow countrywomen Shalin Zulkifli at position 2 with 208 points and Daria Pajak from Poland at position 3 with 195 points.
Jesper Svensson from Sweden is leading the men's division of the tour with 270 points in front of Rafiq Ismail from Malaysia at position 2 with 260 points and Anthony Simonsen from USA at position 3 with 219 points.
Click here to see the ranking in the Women's Division
Click here to see the ranking in the Men's Division