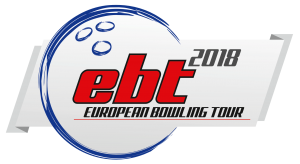 One of the classic tournaments in the European Bowling Tour, the Hammer Bronzen Schietspoel Tournament, is back in the tour after one year's absence.
The tournament was conducted on 15-22 April 2018 in a beautifully new and modern bowling centre in Tilburg, which were rebuild as a consequence of an unfortunate fire in the old centre.
The new centre in Tilburg, which is opened as Dolfijn | The Plays To Be, keeps 24 lanes, which is 4 lanes more than the previous centre had.
The tournament was well visited with 206 bowlers entering, playing 502 entries in total; a good beginning for the returning tournament, which as always were managed by Luc Jansen.
The format included a field of 40 athletes advancing into the final steps, of which 36 played 6 games starting from scratch, where after the remaining part of the format included pools of 4 athletes, each playing two games; 4 pools in step 2, 2 pools in step 3 and finally 1 pool of 4 players in the last step of the final.
The final pool of 4 athletes ended as follows:
Gaetan Mouveroux, France: 494 (238+256)
Dan Östergaard-Poulsen, Denmark: 490 (247+243)
Richard Teece, England: 406 (192+214)
Jeroen van Geel, The Netherlands: 390 (211+179)
Gaetan Mouveroux won his first tour title and he is also highest ranked in the men´s division for the first time in his career.
Cajsa Wegner from Sweden became the highest ranked women in a tour stop for the second time in her career, Cajsa left the tournament at the second final step.
Jenny Wegner from Sweden is leading the women's division of the tour with 494 points in front of Ghislaine Sigter van der Tol from The Netherlands at position 2 with 370 points and Cherie Tan from Singapore is at position 3 with 335 points.
Anthony Simonsen from USA is leading the men's division of the tour with 469 points in front of Jesper Svensson from Sweden at position 2 with 390 points and Rafiq Ismail from Malaysia at position 3 with 370.
Click here to see the ranking in the Women's Division
Click here to see the ranking in the Men's Division