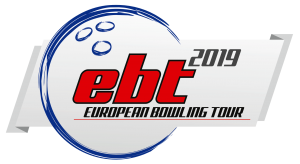 Kegel Aalborg International 2019, was conducted in Aalborg, Denmark 3 – 10 November 2019.  107 athletes, 30 women and 77 men fought out for the first price.
After the first of 4 games in final step 4 then it came obvious that the battle of the tittle would be between 2 athletes from Sweden and 1 athlete from Iceland.
William Svensson from Sweden – 1374 (previous 6 games) + 268 = 442
Arnar David Jonsson from Iceland – 1407 Prev. 6 games) + 233 = 440
Martin Larsen from Sweden – 1357 (previous 6 games) + 257 = 414
Then Arnar decided to step it up and had secured good 96 pin lead before the last game, and could slow down and relax in the last game, results for the top 3 ended as follows:
Arnar David Jónsson, Iceland 354 – 10 games
William Svensson, Sweden 307 – 10 games
Martin Larsen, Sweden 289 – 10 games.
This became the 2nd title for Arnar David Jonsson on the EBT this season, and 3rd title in 2 years – and he became the winner of the EBT 2019.   First Icelandic athlete to achieve this.
Highest woman in Aalborg became Birgit Poeppler, Germany.
We did see small changes in the women's division of the tour as Anna Andersson from Sweden had already won the EBT 2019 with 688 points in front of her country woman Jenny Wegner with 537 points, but Mai Ginge Jensen from Denmark moved up to 3rd place with 533 points.
In men's division no changes either,  Arnar David Jonsson, Iceland is the winner of the mens division of the tour with 670 points in front of Adam Andersson from Sweden at position 2 with 579 points and Kim Bolleby from Thailand at position 3 with 454 points.
Click here to see the ranking in the Women's Division
Click here to see the ranking in the Men's Division