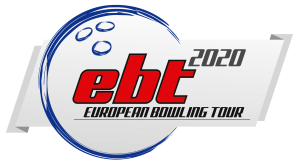 The program of the European Bowling Tour 2020 has been decided by the ETBF Presidium. The program is presented at the following page and at the ETBF Website: www.etbf.eu
The EBT 2020 is the 21st consecutive tour since the first European Bowling Tour in 2000.
The 13 tournaments adopted in the tour are divided in 5 different categories as follows: 2 EBT Platinum, 1 EBT Gold, 4 EBT Silver, 4 EBT Bronze and 2 EBT Satellite tournaments.
The total prize fund in the EBT 2020 is 679.000€; giving an average prize fund of over 52.000€.
It is a pleasure for ETBF to welcome one new tournaments in the tour, The BOWL for Fun Open Tournament, which will be conducted in Langen, Germany in May.
In addition to this new tournament, 12 tournaments included in the EBT 2019 are included in the EBT 2020 as well.
The highest ranked woman and the highest ranked man by the conclusion of the EBT 2020 will be awarded 1.000 € each.
The 8 highest ranked women and the 8 highest ranked men after the 13 stops are qualified for the 14th EBT Masters in 2021. The host centre of the EBT Masters 2021 will be BOWL for FUN, Langen, Germany