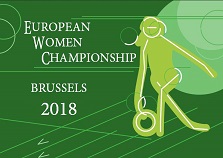 The first part of the European Women Championships 2018 was completely dominated by a very well plying Swedish Team.
In the Singles event, the final became an overall Swedish affair, where Cajsa Wegner took the gold medal after a 242-194 win over her countrywomen Ida Andersson.
Also the final of the Doubles event became an overall Swedish affair, in which Nina Flack and Isabelle Hultin defeated Victoria Johansson and Cajsa Wegner 390–387.
In the Trios event Sweden, represented by Isabelle Hultin, Ida Andersson and Nina Flack, defeated Finland, represented by Sanna Pasanen, Eliisa Hiltunen and Reija Lundén, 638-629.
Finally Sweden continued their Gold rush into the Team event, where Victoria Johansson, Ida Andersson, Nina Flack, Isabelle Hultin, Jenny Wegner and Cajsa Wegner defeated Ani Juntunen, Eliisa Hiltunen, Petra Eriksson-Sola, Reija Lundén, Vilma Salo and Sanna Pasanen from Finland 1125-905.
The rest of the championships were dedicated to Denmark's Mai Ginge Jensen, who first won All Event Gold with a nearly hundred pins gap to her nearest opponent, Nina Flack.
Later Mai Ginge Jensen won her 4 matches in the Masters event, where Finland's Eliisa Hiltonen was defeated 2-1 (224-214, 198-237 and 256.191) in the final and decisive match.
Sweden became the best nation with 4 Gold medals, 3 Silver medals and 4 Bronze medals, while Denmark became the second best nation with 2 Gold medals.
The EWC 2018 was the 25rd European Championships conducted since 1962 and the 7th European Championships conducted only for women since 2006.
The championships, which were held in Bowling Stones Wemmel, a suburb to Belgians capital Brussels, attracted 132 female athletes from 25 European member federations.
Click here to see the list of all medallists
Click here to see the completed list of results