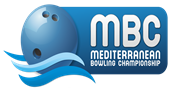 Dear MBC Federations,
Dear friends,

As worries over COVID-19 continue to grow, so does the list of major events that are being cancelled. Many major event organizers are not taking any chances as cases continue to rise globally.
France currently has the second-highest number of confirmed cases of COVID-19 in Europe after Italy.

It is therefore unfortunate that we have agreed with the organizers of the Mediterranean Bowling Championships in Paris (22-29 March 2020) to postpone the event to 19-26 JULY 2020.

We know that France is doing all it can to contain the new Coronavirus and we support them in all their efforts but it is necessary to provide our athletes, coaches and member Federations with a clear way forward in what is a complex and fast-moving set of circumstances.

The advice from the French medical team, who are in contact with the World Health Organization, is that the spread of the Coronavirus both within France and outside the country is still at a concerning level and no one should be going ahead with any major gatherings that can be postponed.

I am sure that almost all the federations will have to pay a penalty fee of changing the flight tickets but there is no higher priority for us than the health, safety and physical well-being of attendees and event staff.

Hotel fees and rates will stay the same.

We will come back with a revise bulleting and instructions in due course.

If you have any questions please don't hesitate to contact me.
Marios Nicolaides
MBC committee