Kim Andersen
There is a FAKE EBF page on Facebook right now
https://www.facebook.com/profile.php?id=100091062116476
PLEASE DO NOT SUPPORT OR LIKE THIS PAGE AS IT IS HAVING NOTHING WITH EBF TO DO
New dates for the European Women Championships 2022 have been set as 10-21 August 2022 in Lövvang Bowling Center, Aalborg, Denmark.
All previously registered federations have to re-submit forms B – E;  this can only be done in a couple of days as the Host has to set forms to zero first, at same time then the Host will also publish new deadlines as needed.
Federations that were not already registered to participate but can now register due to new dates are better for them will be able to register Form A until the set deadline.
We have a newcomer to the European Bowling Tour 2021; Bologna Open – to be hosted during 11-19 September 2021 in Bologna, Italy.
New tournament of Bronze status in the EBT.
Further information to be seen in the tournament calendar on the www.etbf.eu and under the EBT 2021 section.
The host of the Leandersson Christmas tournament in Sweden, has decided to cancel the 2020 version of the tournament due to restrictions due to COVID-19
The tournament will however be back strong in the EBT 2021 during 11-19 December 2021.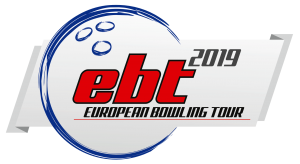 One of the classic tournaments in European Bowling Tour, The Hammer Bronzen Schietspoel Tournament was conducted on 24.02.-3.03.2019 in Tilburg, The Netherlands.
A total of 210 athletes, which was 163 men and 47 women made their way to Tilburg to compete for the 40 spots in the final steps in the tournament.
The format included a field of 40 athletes advancing into the final steps, of which 36 played 6 games starting from scratch, were after the remaining part of the format included pools of 4 athletes, each playing two games; 4 pools in step 2, 2 pools in step 3 and finally 1 pool of 4 players in the last step of the final.
The final pool of 4 athletes ended as follows:
Hadley Morgan, England        447 (233+214)
Anna Andersson, Sweden       442 (212+214)
Arnar David Jonsson, Iceland  437 (245+192)
Jenny Wegner, Sweden           372 (156+200)
Cherie Tan from Singapore is leading the women's division of the tour with 350 points in front of two of her fellow countrywomen, Bernice Lim at position 2 with 285 points and Anna Anderson from Sweden now at position 3 with 263 points.
Jesse Kallio from Finland is leading the men's division of the tour with 238 points in front of Kim Bolleby from Thailand at position 2 with 234 points and Hadley from England at position 3 with 220 points.
Click here to see the ranking in the Women's Division
Click here to see the ranking in the Men's Division
It is with great sorrow that we were informed this morning that our dear friend and Vice President of ETBF, Kim Thorsgard Jensen passed away.
Kim leaves a daughter and a son behind. He was only 62.
On behalf of the ETBF Presidium
Addie Ophelders
President